There's lots of discussion about "Network Radio" at the moment, most notably in the current Practical Wireless and Radcom. It's controversial, and won't appeal to everyone, but a growing group of hams are using it, and it's busy.
Want to know more? We're very grateful to Essex Ham member Paul G7BHE for submitting the following overview of Network Radio:
Introductions and arguments
Whilst this mode has been around for some years, it is over the past 6 months that it has really taken off. The ease of use, clarity of audio and accessibility makes it a great mode. Beginners and dyed in the wool Amateurs are finding this a fun and effective way to fill the logbook.
What is Network Radio?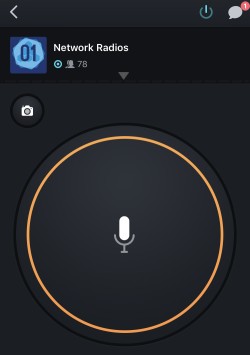 'Network Radio' is the name given to two things. The first is a type of transceiver. The second, a selection of channels that are used by enthusiasts.
In its current form, Network Radios is a method of communication used by licensed Amateurs and non-Licensed Amateurs. There are various options, but the two main ones use apps written for the mobile phone platform.
Zello: This is an app available for iOS and Android, it's even available for your Windows phone, BlackBerry and PC.
Teamspeak: Available for iOS and Android.
Zello and Teamspeak are both designed to mimic the type of digital communication used in business and the Emergency Services. Zello is the easiest to use and is the most popular here in the UK.
The Zello system is free to use and the app does not cost anything. Teamspeak is free to use but there is a small initial charge from your App Store.
For this article, I am going to focus on Zello. I will explain how it works in reality and how to set it up. I will be taking a look at some of the arguments against it and try to answer some questions. I'm lucky enough to be one of the Network Radios Moderator Team.
Getting started
The great thing about this mode is that you probably own all you need to get started. If you have a smartphone or a Windows PC then you are good to go.
Go to your app store on your smart device and install Zello. It's free!
When you open the app, you go through the usual setup routine. We recommend using your Amateur Callsign as your username. You choose your own password of course. Next you set up your profile. Mine is simply G7BHE – Paul. Although non-licensed users are encouraged to set up as Name – Location. I will speak about the use of the system by non-licensed members later in this article.
Once you have your account set up, it's time to join us and have your first QSO.
Go to the Channels tab (or in the menu) in Zello
Choose the Add button. Depending on the version you have installed, it may simply be the '+' sign.
Select "Find a channel"
You can then search for us, look for 'network radios ch' without the quotes.
You should be presented with a whole bunch of channels. The one you want has a blue icon with number 01.
Add that channel and you are almost there.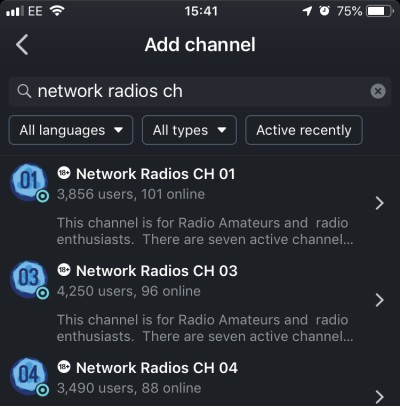 Next thing to do is to check that the channel is not in use. Network Radios is busy, it's a popular mode. At any one time, there is an average of 40+ people actively on channel.
Key up and call for a moderator, giving your callsign. With luck, one of us will call you back. Having your callsign visible on your profile makes the job of the moderator much easier. Once we are aware of your presence, your account will be authorised for you to start calling.
Before authorisation, you are able to hear traffic on the channels but you will only be able to speak to a moderator.
After adding channel 01, consider adding channels 02 & 03 too. As I said, 01 gets busy. Compare that to your local repeater.
That's really all there is to it. Let's move on to some other things to know.
As mentioned earlier, Network Radios is a name also given to a type of transceiver.
As a new user to the system, I would encourage you to try this on your mobile phone or tablet. Purpose made equipment costs money and you can get a real taste of the mode for absolutely nothing. If you decide it's something you want to stick with then consider buying one of the units made for the purpose.
At the time of writing, the most popular units are the Inrico T320 and the Inrico TM7. Both of these are available from our main Amateur Radio stockists. What is very noticeable, is that second hand Inrico's are as rare as hen's teeth on eBay. An indicator of how popular they are.
The T320 is a handheld unit. It's basically an Android mobile with a PTT button. It has an excellent battery life and a loud speaker.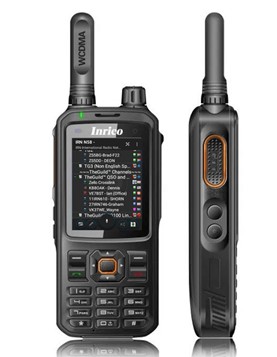 The TM7 is a mobile variant. Again, it is Android driven but is designed to be used in a car or base environment. You can either hard wire it in the car or use the supplied cigarette lighter plug. The current drain is very low and will not present any problems to your cars electric system. Again this device has a good loud speaker and the added benefit of a fist mic.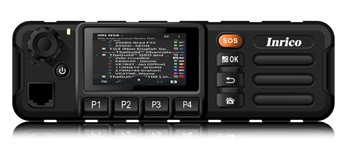 Why would you want to use one of these rather than your mobile phone?
These units win over your mobile in various ways. Firstly, if you are in the middle of a QSO and your phone rings then you can kiss goodbye to that VK3 you are talking to. The phone will take over and dump Zello. Start using Zello heavily on your iPhone and watch that battery go. The T320 takes it in its stride. Also you can assign Amateur only apps to your Inrico. Having APRSDroid running 24/7 causes not a bump in the battery life. Also it's a really nice platform to have things like RepeaterBook and other Amateur apps running on.
The screen on these devices is a tad small at 2.4 inches. But its a trade off against battery life and you will find you don't really need too much screen real estate.
Ok, so let's look at some arguments against Network Radios.
'It's not Amateur Radio!'
It doesn't claim to be something you use on the licensed bands. But there are arguments to suggest that it is Amateur Radio. It rather depends on your definition of Amateur Radio. According to Wikipedia, that font of all knowledge:
"Amateur Radio, also known as ham radio, describes the use of radio frequency spectrum for purposes of non-commercial exchange of messages, wireless experimentation, self-training, private recreation, radiosport, contesting, and emergency communication."
Nowhere in this definition does it require the holding of a licence, the use of Amateur only bands or specific equipment. What we see is self-training, learning, the passing of messages and the use of the frequency spectrum.
It goes without saying that as Network Radios piggyback on the cellular system, it does in fact use the radio spectrum. Even if your unit is connected to WiFi, it most certainly is using RF.
'It's not just Amateurs'
That's true. The people who are saying this, along with the rest of us were not Amateurs once upon a time. What we did have was a willingness to learn. In fact Network Radios are very helpful indeed when training people to become Amateurs. For a prospective M6, using a device they are already familiar with, is a great way to get over 'Mic Shyness'. It also allows them to learn procedures at a very early stage. This should be seen as a benefit rather than a downside. The use of Network Radios is heavily moderated. Keyers, troublemakers and other undesirables are weeded out rapidly. This allows for a comfortable environment to hear quality QSO's and for good operator practices to flourish. That said, if you are absolutely anti talking to non-licensed operators, you are fully at liberty to set up your own channels. Again it's free and simple to do. A slew of 'Network Radios' channels have popped up that are not run by the Network Radios team. We are simply numbering ours. Geographic channels have been created but seem to be as quiet as geographic channels on DMR. The moderator team have no control over those channels.
'It uses the internet, that's cheating'
This is the one that cheers me the most. Amateurs cheating. It is a very telling comment that exposes the mindset of the hobby currently. If you want to put it in radio terms, these systems use the internet as a method of propagation. Tell an AmSat user that he is cheating by using a satellite. Tell a Moon Bounce user that he is too. If your goal is to get your voice from one person to another so you can communicate with like-minded people and learn, does the method used actually matter that much? My experience is that this argument is normally used by people who have invested a lot of money in HF equipment. Maybe it is frustration, snobbery or a genuine belief that the internet is cheating. I don't get it, but then I haven't read any articles that decry Network Radios. Mostly, people join and stay.
'It's no good for Emergency Communication'
I definitely have some sympathy with this argument. Whilst some RAYNET groups are adopting Network Radios as a means of communication, I would be loath to rely on them in a serious situation. Reliance on the mobile phone system and not having an RF system in place is asking for trouble. We are lucky in the UK to have a pretty reliable system and for localised emergencies Network Radios work just fine. In the southern states of the USA the 'Cajun Navy' used Zello to great effect to coordinate rescue efforts and many lives were saved as a result. That flooding in Alabama, Texas and Louisiana, whilst awful, did not destroy the cellular network. Also many of these rescuers were not Amateurs. I have respect for RAYNET, a well run group can do great things. But in a large scale disaster they would soon be over run. In a massive event, I would definitely want HF, VHF and UHF options available.
'The Amateur bands are dead'
Sadly this is true, but none of that can be laid at the feet of Network Radios. Many people give up Amateur Radio due to snobbery being aimed in their direction. 'Oh you're an M6?' Well if that's what people are up against, can you blame them? They will certainly spread the word that Amateurs are a miserable bunch. If you keep telling people the bands are dead, they are going to believe you and these things have a way of becoming true. Network Radios are thriving. As I write this article, there are QSO's on channels 01 and 02. There is also a stream of people asking for authorisation to use the system. Many of these are M0's. What does that tell you? Network Radios is populated by people who are positive about the hobby, technically savvy and keen to not lose the RF bands we have been allocated. In fact you will often hear Amateurs develop Skeds via NR to go and meet on HF or VHF. This is because they have a central place to meet like minded people.
'It's just Skype'
Whilst it may be true that Skype and Zello work via the internet. Try calling CQ on Skype, or calling up an unknown person to ask for a chat. I'll leave that one there.
Moving on. Those who come to Network Radios almost always have a positive experience. They don't get keyed over, they easily find interesting people to talk to and they don't need to turn their motor vehicle into a bumper car to get on the system. I'm a Network Radio convert, but I use my VHF/UHF set just as much as I always have. I also regularly use DSTAR and DMR. The echoes of 'That's not real radio either' rumble around as I type it.
I will relay a short anecdote, it's a true story but the person will remain nameless. A network radio unit was sent to the main man of one of the big organisations within the hobby in the UK. I'm being as vague as I can here. That person was initially quite anti the idea and allowed the unit to gather dust for a bit. The person who loaned the unit, eventually got them to give it a go. Now that person is actively using it and has said that he is loving it.
Ask yourself what you want from Amateur Radio. If like me, you enjoy a QSO then does it matter how it happens? If like me, you enjoy learning a new technology, then give it a try. If like me, you love a new gadget, it's perfect.
We all use technology of different types to enhance our enjoyment of the hobby. Be it groups on Facebook, DX Cluster, WSPR, APRS etc, is this really any different? Try to see it as a bolt on to the hobby rather than a pretender to the throne. Come and join us and rediscover your love of Amateur Radio.
We have an active Facebook group at https://www.facebook.com/groups/747365082123751/
You can learn more about the app at https://zelloappdownload.info/zello-pc-mac-walkie-talkie-app
Or you can contact me for more information, I'm good on QRZ.
You are about 90 seconds away from discovering a hidden gem in the hobby, we hope to have you along. There's actually nothing to lose, apart from your inhibitions.
Best 73
Paul G7BHE
Editor's Note: Thanks to Paul for the excellent introduction to Network Radio. As I've been formatting this article, I've been listening to Network Radio Channel 1. It's been non-stop chat, using callsigns – fascinating listening, and very active. Well worth a listen!